In 1987, John O'Leary was a curious nine-year-old boy. Playing with fire and gasoline, John created a massive explosion in his home and was burned on 100% of his body. He was given 1% chance to live.
This epic story of survival was first showcased in his parents' book, Overwhelming Odds, in 2006. Originally printing 200 copies for friends and family, his parents have sold 70,000 copies, most in back-of-room sales at John's speaking events. It was this book that first invited John to embrace his miraculous recovery and share it with the world.John inspires nearly 75,000 people at 100+ events each year. He speaks to companies and organizations across industries, such as: sales, healthcare, business, safety, marketing, financial services, faith, education and insurance.Consistently described as "the best speaker we've ever had," John receives nearly 100% of his engagements from referrals. His schedule is a testament to the power of his message and who he is as an individual. His emotional story-telling, unexpected humor and authenticity make each of his presentations truly transformational.
John's first book ON FIRE: The 7 Choices to Ignite a Radically Inspired Life was an instant #1 National Bestseller; 120,000 copies have sold and it has been translated into 12 languages. John's Live Inspired Podcast is a top 20 for business on iTunes & Inc. Magazine. His online community is 200,000 strong.

John considers his greatest success to be his marriage to his wife Beth, their four children and his relationships with friends and family.
Deacon Harold Burke-Sivers
Deacon Harold Burke-Sivers – known around the world as the "Dynamic Deacon" – is one of the most sought-after speakers in the Church today. He is a powerful and passionate evangelist and preacher, whose no-nonsense approach to living and proclaiming the Catholic faith is sure to challenge and inspire those who hear him.
He travels across the United States and around the world speaking at conferences, workshops, retreats, parish missions, high schools, and young adult events – in short, to everyone who desires to know Jesus intimately and enjoy a deeper personal relationship with Him. His areas of expertise include marriage and family life, discerning the will of God, the sacraments, male spirituality, pro-life issues, evangelization, prayer, and many others.
Deacon Harold holds a Bachelor of Arts Degree in Economics and Business Administration from the University of Notre Dame, and a Master of Theological Studies Degree from the University of Dallas. He co-hosts the Eternal Word Television's Network's popular radio program, "Morning Glory", and the weekly broadcast "Living Stones" on Mater Dei Radio. Deacon has also appeared as a guest on numerous other national and international radio programs, including "Catholic Answers Live" and "Vocation Boom Radio."
In addition, he is the host or co-host of several popular series on EWTN television and is featured on the award winning Chosen faith formation program by Ascension Press. Deacon Harold is the author of the best-selling book, Behold the Man: A Catholic Vision of Male Spirituality, co-author of Ignite: Read the Bible Like Never Before, and has written the acclaimed new book, Father Augustus Tolton: The Slave Who Became the First African-American Priest.
Deacon Harold is featured on The Greatest Commandments: A 40-Week Spiritual Journey for Married Couples, a vibrant marriage-enrichment program rooted in biblical values and designed to help husbands and wives know God better, trust Him fully and love Him completely throughout the course of their married lives.
Retaining a deep love of Benedictine spirituality which he gained during his time discerning a call to that religious community, Deacon Harold is a Benedictine Oblate of Mt. Angel Abbey. He is also a member of the Fellowship of Catholic Scholars and the Confraternity of Catholic Clergy.
As the president and CEO of The Saint Joseph Center, Deacon Harold oversees that nonprofit organization's endeavors, which include hosting an international institute for Catholic male spirituality, coordinating dynamic speaking tours and life-changing retreats, and developing products and services that support family life.
Most importantly, he is married to his lovely wife, Colleen, and they have four beautiful children. They live in Portland, Oregon, where Deacon Harold is assigned to Immaculate Heart Catholic Church.
For more information on Deacon Harold Burke-Sivers please visit his website: www.deaconharold.com
Dr. Lawrence Feingold

Dr. Feingold is the Associate Professor for Philosophy and Theology at Kenrick Glennon Seminary. He received a BA in Comparative Arts from Washington University. At Pontifical University of the Holy Cross in Rome, Dr. Feingold received a Bachelor's in Philosophy and Theology and a Doctorate in Sacred Theology. He has multiple publications including his latest book "The Eucharist: Mystery of Presence, Sacrifice, and Communion" in 2018. Dr. Feingold teaches and speaks around the country on topics including beauty, St. Thomas Aquinas, art, culture and sacraments. He lives in St. Louis, Missouri with his wife Marsha.
Fr. Anthony Gerber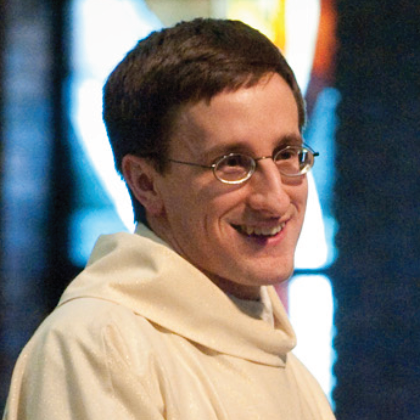 Fr. Anthony Gerber is the Parochial Administrator at St. Theodore Catholic Church in Wentzville, Missouri. Fr. Gerber will be speaking on the topic of Reconcilation at the Men's Conference this year.